Clubs & Societies
We Care We Help Club
Years:




6th and 7th Form



Venue:
Room 1

Time/frequency:
On an irregular basis, depending on charitiy activities.

Description:
This is a charity character club aiming at helping financially Cyprus organisations which work with people with special needs (such as the Cyprus autistics, blinds, deaf etc.) by organising charity activities. Furthermore, the club aims at reinforcing our students' sensibility and make them socially aware and responsible.

Teachers in charge: Ms. Andrie Constantinou, Ms. Niki Melanidou and Ms. Maria Pericleous
Announcements:
Congratulations to our Club! We won the second prize, jointly with Kykkos Lyceum Paphos, at the 2015-2016 competition of the Youth & Volunteerism Programme implemented by the Pancyprian Volunteerism Coordinative Council, in collaboration with the Ministry of Education and Culture.
Well done to all participants and teachers in-charge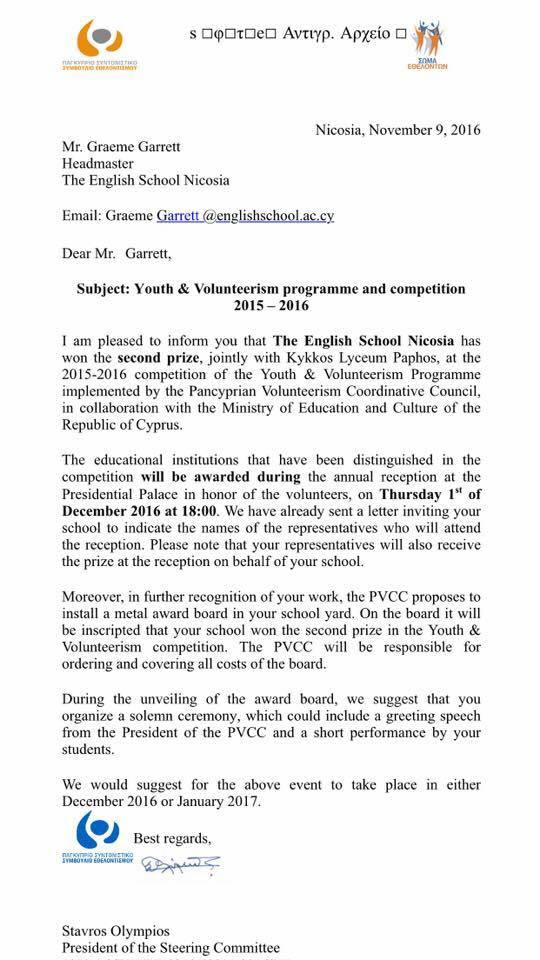 Meeting on Monday, 31st October, during 2nd Break in the Hall.
If you are already a member or you would like to join us this year, please join us during our first meeting this year.

Agenda:
​Assemblies
Trip to Kenya
Adopt a family
Makarios Hospital
See you there!