Sporting Results
Friendly Matches
The English School Vs The Senior School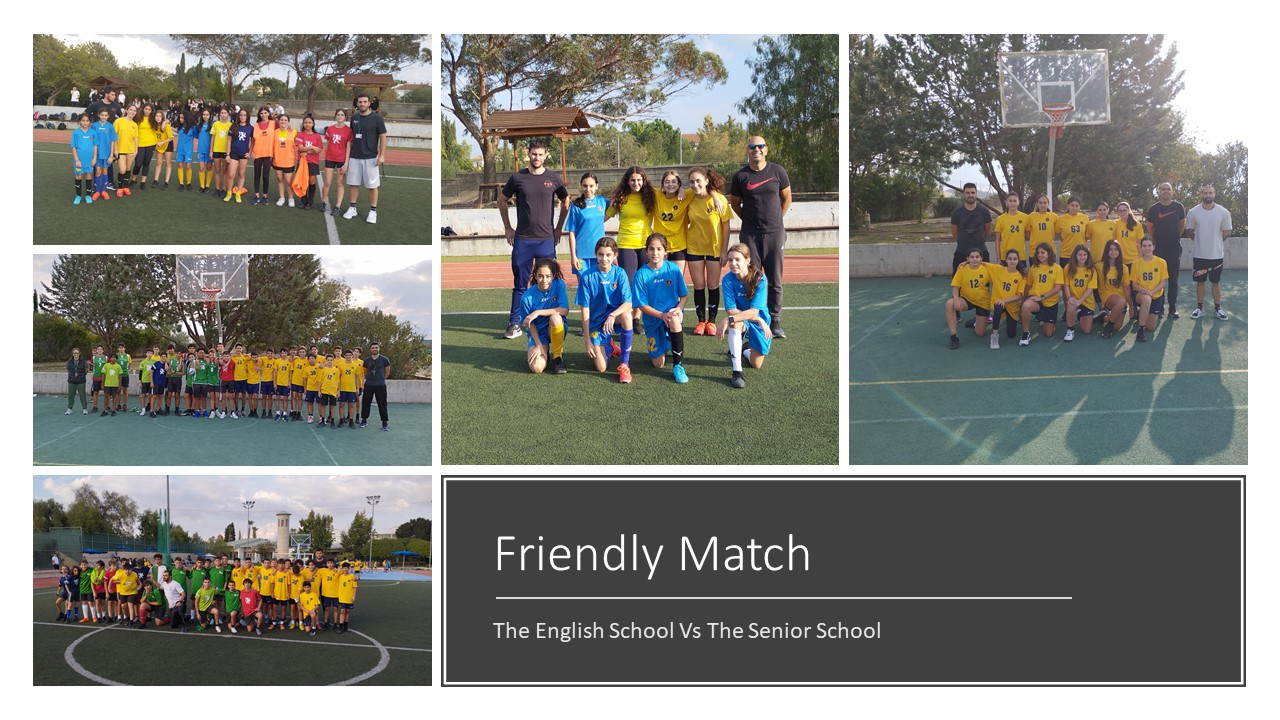 1. Junior Boys Basketball Match
Senior School vs The English School: 29-32

Members of the Team: Georgallis Anthony, Georgallis Constantinos, Heraclides Nikolas, Hadjikyriakou Sotiris,
Hu Tayiani, Parikian Alexandros Raffi, Nicolaides Theodosis, Tseriotis Alexandros, Tsolakis Andreas,
Velentinas Alexandros, Xenophotos Haralambos, Zachariades Pavlos.

2. Junior Girls Basketball Match
Senior School vs English School: 31-36

Members of the Team: Petrou Lia, Gavrielidou Ismini, Nathanael Sophia, Demetriou Veronica, Kapiri Sophia,
Koronaki Yakinthi, Kypreou Paola, Demetriade Artemis, Markidou Despoina, Theophylide Penny.

3. Junior Girls Football Match
Senior School vs English School: 1-1

Members of the Team: Stephanou Nayia, Iacovou Antrea, Kourtelalri Katerina, Vassiliou Elia, Yianna Irene,
Matsis Kyveli, Leandrou Maria, Emily Nicolaou, Anna Maria Hatzintona

4. Junior Boys Football Match
Senior School Team A vs English School Team A: 0-2
Senior School Team B vs English School Team B: 0-2

Members of the Team: Efthyvoulou Michael Angleos, Chourides Constantinos, Kyriakides Antonios, Ilarionos Marios, Alexadrou Taliotis Nikola, Heracleous Angelos,
Papaioannou Marios, Savin David, Poullikkas Christian Leon, Middelton Constantinos, Rossos Themis, Pavlides Panayiotis.

Inter-House Cross-Country Competition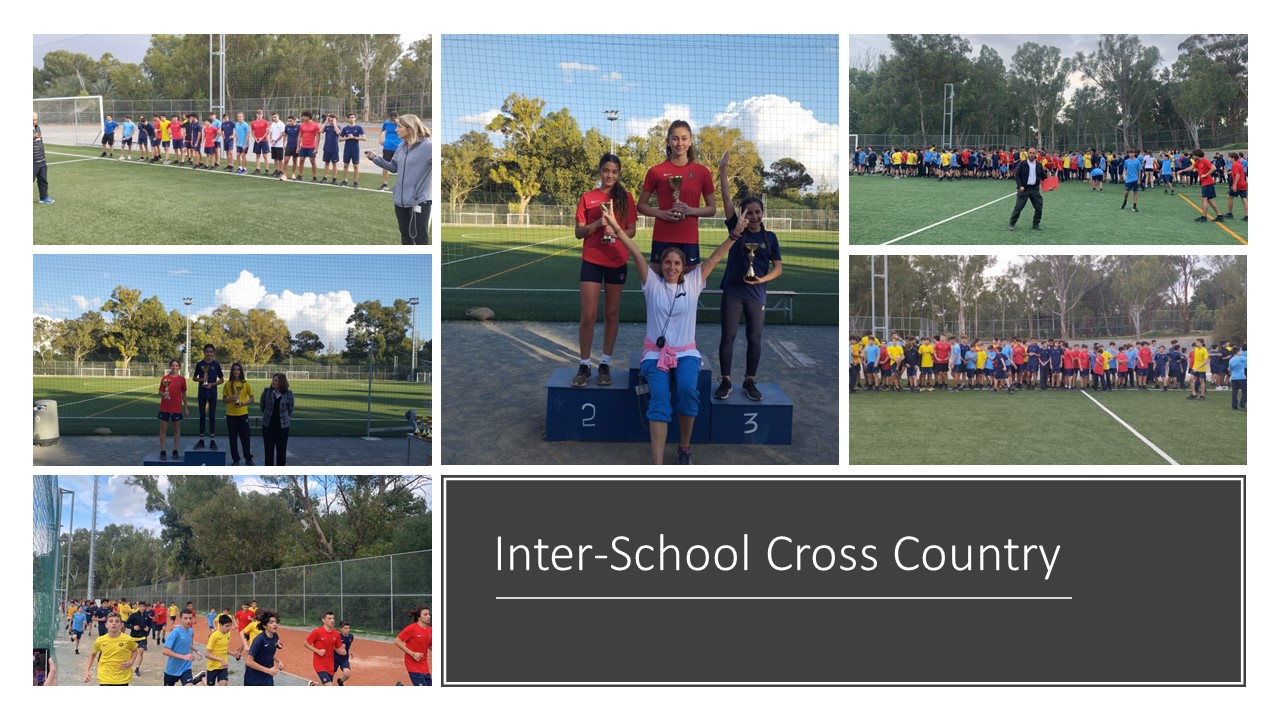 Girls Inter-House Cross Country Competition - 18th November 2022
Junior Girls
Overall Winners
Year 1

1st Place


Sophia Lydia Nathanael Wolseley



2nd Place


Maria Chara Kyprianou Wolseley



3rd Place


Kyveli Theodora Matsis Kitchener

1st Place


Kyveli Theodora Matsis Kitchener



2nd Place


Emily Nicolaou Wolseley



3rd Place


Maria Leandrou Beaconsfield

-------------------------------------------------------------------------------------------------------------------------------------------------------------------------------------

Year 2
Year 3

1st Place


Irene Fouli Newham



2nd Place


Melissa Mouradian Kitchener



3rd Place


Elina Dracou Wolseley

1st Place


Sophia Lydia Nathanael Wolseley



2nd Place


Maria Chara Kyprianou Wolseley



3rd Place


Nefeli Diaouri Kitchener

========================================================================================================
Senior Girls
Overall Winners
Year 4

1st Place


Andrea Ioanna Georgiou Newham



2nd Place


Eirini Charmpi Beaconsfield



3rd Place


Chrysanthi Rokopou Wolseley

1st Place


Eirini Charmpi Beaconsfield



2nd Place


Chrysanthi Rokopou Wolseley



3rd Place


Maria Anna Charalambide Wolseley

-------------------------------------------------------------------------------------------------------------------------------------------------------------------------------------

Year 5
Year 6+7

1st Place


Andrea Ioanna Georgiou Newham



2nd Place


Fotini Tsouka Wolseley



3rd Place


NA

1st Place


NA



2nd Place


NA



3rd Place


NA

=======================================================================================================
Boys Inter-House Cross Country Competition - 17th November 2022
Junior Boys
Overall Winners
Year 1

1st Place


Giorgos Gavriil Kitchener



2nd Place


Christos Michael Kitchener



3rd Place


Matthaios Ioannou Wolseley

1st Place


Savvas Savva Wosleley



2nd Place


Themis Rossos Beaconsfield



3rd Place


Themis Philippides Kitchener

-------------------------------------------------------------------------------------------------------------------------------------------------------------------------------------

Year 2
Year 3

1st Place


Antonios Kyriakides Newham



2nd Place


Timothee Alkis Serrurier Beaconsfield



3rd Place


Theodosis Nicolaides Wolseley

1st Place


Giorgos Gavriil Kitchener



2nd Place


Christos Michael Kitchener



3rd Place


Matthaios Ioannou Wolseley

========================================================================================================
Senior Boys
Overall Winners
Year 4

1st Place


Constantinos Nearchou Kitchener



2nd Place


Ara Mahdessian Newham



3rd Place


Pavlos Patrikios Kitchener

1st Place


Pavlos Patrikios Kitchener



2nd Place


Aristodimos Pipis Newham



3rd Place


Ioannis Constantinou Wolseley

-------------------------------------------------------------------------------------------------------------------------------------------------------------------------------------

Year 5
Year 6+7

1st Place


Constantinos Nearchou Kitchener



2nd Place


Ara Mahdessian Newham



3rd Place


Constantinos Zambas Kitchener

1st Place


NA



2nd Place


NA



3rd Place


NA

========================================================================================================
Modern Biathlon - Pancyprian Modern Biathlon Competition


20th October 2022 - 09:00
Governor's Beach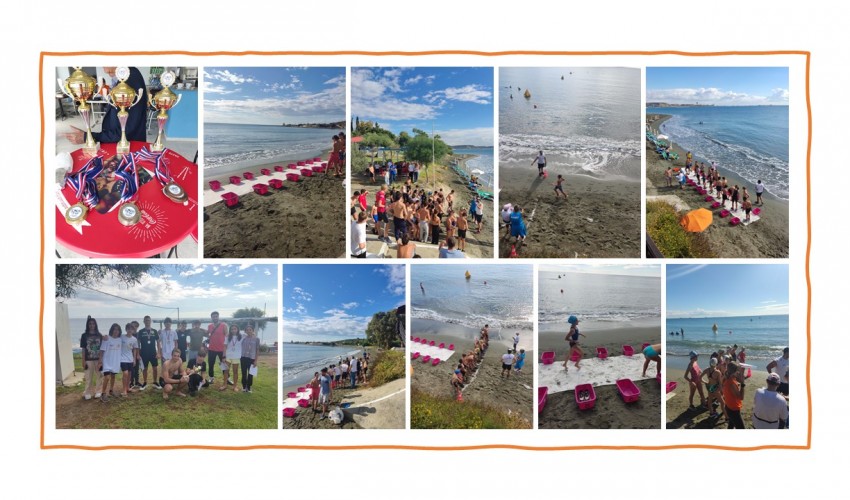 Participation in this event came with a very good result. We won in total 3 medals (1 Gold,1 Silver and 1 Bronze. Andreas Kelesis won the Gold in the category 'Youth A (1200m-200m-1200m)'. Stephie Dracou came 3rd, and Maria Nearchou came 2nd in the category 'Youth D (400m-100m-400m)'.
In total, our School won
3rd place
in the Pancyprian Biathlon Competition.
Great work, everybody!